Lutronic – Healite II
Remove skin blemishes and promote rejuvenation with the latest in LED light therapy in New Zealand
Advanced Derma Care is very excited to be distributing the latest development in LED technology – the HEALITE II, from Lutronic.
HEALITE II is a second-generation Light Emitting Diode (LED) phototherapy system which allows Low-Level Light Therapy (LLLT) to be used as a non-ablative skin surface treatment system for treating acne and superficial skin lesions, relieving pain and promoting skin rejuvenation.
Patients of all ages and skin types can benefit from the pain-free, athermal and easy to apply HEALITE treatments.
Give your clinic the benefit of the most modern technology
Low-Level Light Therapy (LLLT) using LEDs is the perfect option for your clinic because it:
is the ideal wavelength
is powerful enough to penetrate deep where it is needed
works at subcellular, cellular and tissue level
works alone or as an adjunctive therapy
treats multiple indications
offers pain-free, non-invasive, treatment of patients all ages
The HEALITE II can be used for:
skin rejuvenation
reducing fine lines and wrinkles
acne
superficial skin lesions
An optional infra-red light source can also be used to improve blood circulation and for temporary relief of muscle and joint pain.
830NM
Wound Healing
Pain Relief
Muscle and Joint Pain
Arthritis
Muscle Spasm
Temporary Increase of Blood Circulation
Hair Regrowth
Acne Treatment
Skin Rejuvenation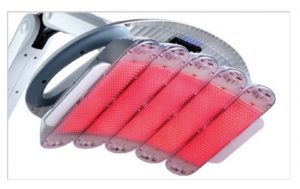 633NM
Non-melanoma Skin Cancer
(Exogenous PDT with 5-ALA)
Skin Rejuvenation
Hair Regrowth
Active Acne (Exogenous PDT with 5-ALA)
415NM
Active Acne (Endogenous PDT)