M Pen Microneedling
m.pen [pro] a microneedling device developed to afford spectacular results safely and effectively. Headpiece movement is automatic, constant and perpendicular to the skin, contributing to better skin recovery.
5 treatment speeds ranging from 6,500 -10,000 cycles per minute, with greater speed giving larger numbers of micro canals, giving better penetration of active substances and lower speed giving small micro canals, greater tolerance for more sensitive zones.
6 depths of adjustment of needle s=depth from 0.25 to 2.5mm.
Wireless, optimum ergonomics and comfort for your clients.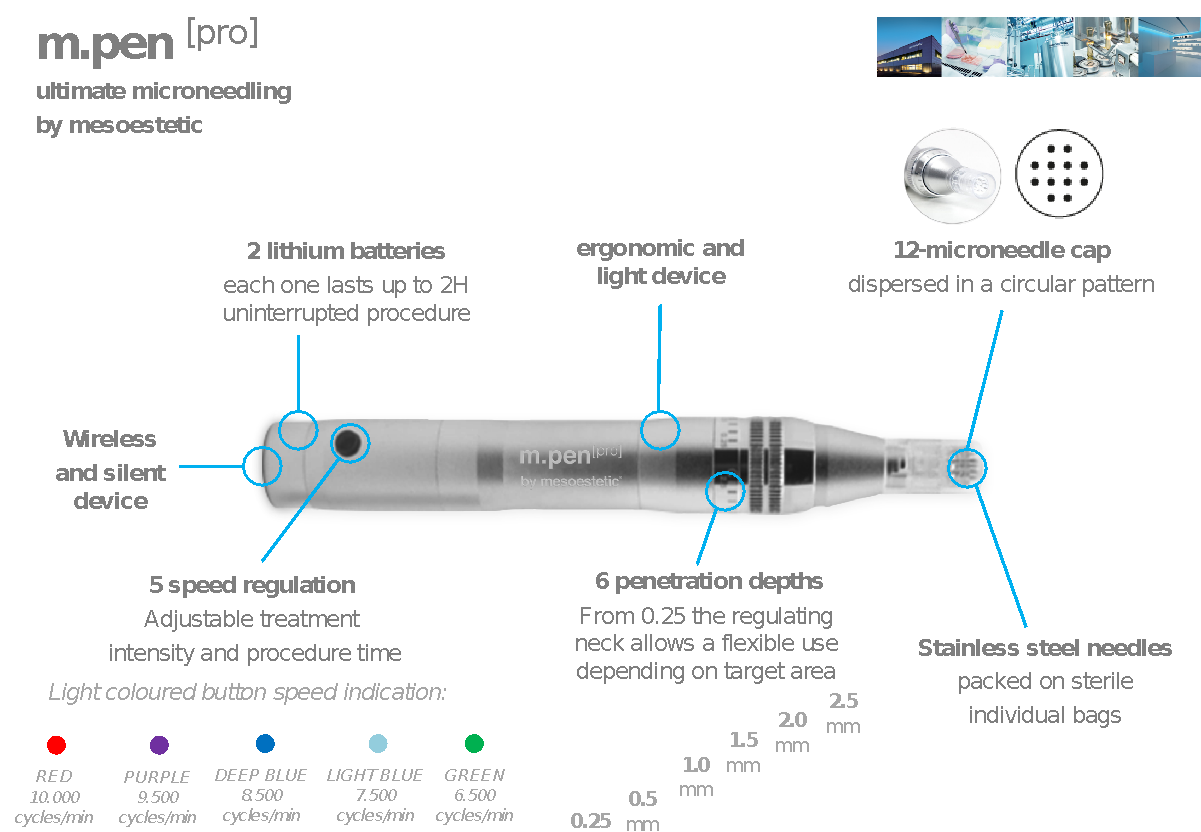 Genesis
Spectacular, effective, lasting and scientifically-proven results, visible from the very first session.
Painless and non-invasive treatment.
Welcome to a new era.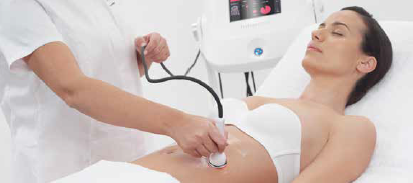 Genesis by mesoestetic®.
Video : Genesis 2017 Introduction
The only medical–cosmetic device in the world to incorporate SmartDrivity™ technology.
The intelligent fusion of four technologies combined with pharmaceutical effects for spectacular results.
What is smartdrivity all about?
Biological effect using Capacitive RF with LED. Stimulates collagen & elastin, promotes intercellular communication, reactivates metabolic activity, accelerates tissue repair and strengthens capillary walls.
Smart Capacitive RF with High Intensity LED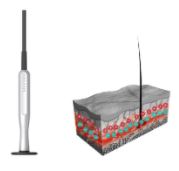 Capacitive RF – boost fibroblast activity, vasodilation, increases tissue and cell oxygenation, neocollagenesis, redensifies skin tissue.
Smart Capacitive RF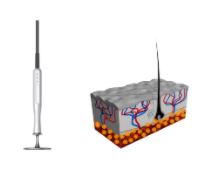 Resistive RF – increases circulation in deep blood vessels, facilitates drainage, increases lipolysis and inhibits adipogenesis and stimulates collagen and elastin
Smart Resistive RF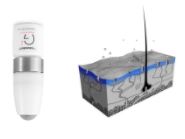 Smart transcutaneous drive: technology based on electro-phoroporation, cell activation. Transcutaneous transport of the latest generation of active ingredients.
Smart Transcutaneous Drive
MCT – Injector. Drs/Nurses only
Meso Carboxytherapy by mesoestetic
mesotherapy
Medical treatment: Intradermal administration of active substances through multiple micro-injections intended for correcting aesthetic concerns.
Effectiveness based on:
physical stimulation
pharmacological effect
micro-doses
carboxytherapy
Non-surgical procedure
Injection of medical CO2 into the subcutaneous tissue thanks to a fine needle that performs a powerful vasodilatory effect at a microcirculatory level, increasing lipolysis in the tissues.
The toxins released during the process are eliminated through the lymphatic system, improving the skin tone.
mesotherapy + carboxytherapy = meso carboxytherapy

wrinkle's forehead and glabella
periorbital area
periocular area
preauricular área


facial contour
nasolabial fold
lip área

arms
back
abdomen
lumbar region
flanks
buttocks
thighs
knees
mct injector brings together two complementary techniques: mesotherapy and carboxytherapy.
Thanks to the combination of these two techniques in the same session or in alternate sessions, the physician/nurse can use a complete tool to perform multiple facial and body treatments.