Mesoprotect Products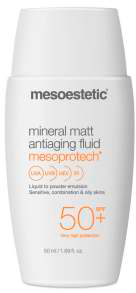 Mineral matt anti aging fluid SPF 50+
For combination oily and including sensitive skins. An innovative non greasy fluid that is transformed into a powered emulsion on the skin. The specific active ingredient is mattifying particles.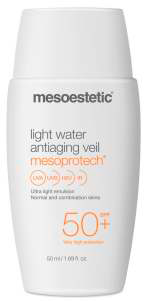 Light water antiageing Veil SPF 50+
For normal to combination skins an ultra light t4exture that is rapidly absorbed, thereby giving an invisible protective veil. Specific active is Hyaluronic acid and silicon providing hydration at the epidermal level and enhances the elasticity and firmness of the tissues.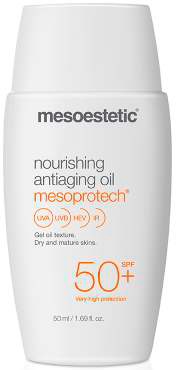 Nourishing anti aging oil SPF 50+
anti aging oil-gel providing nutrition, comfort and elasticity to the tissue with the active ingredient of Chia Seed Oil rich in omega 3 &6. Its gelled texture becomes a mild oil that melts into the skin, leaving a dry finish.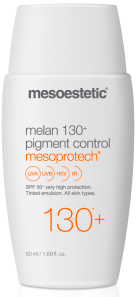 Melan 130+ pigment control
UVA 67 and UVB 131 very high protection factor tinted sunscreen. Helps regulate melanin synthesis with spot prevention. Its tint texture creates an undetectable natural skin tone. Specific active ingredients of azelaic acid regulate hyperpigmentation by inhibiting tyrosinase activation. Indicated for all skin types with a major concern of hyperpigmentation.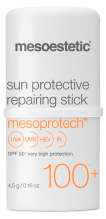 Sun protective repairing stick SPF 100+
UVA 32 and UVB 124 very high SPF stick. Specially for sensitive areas such as the lips, eye contour and to protect blemishes and scars. With the reparative properties of rosehip for epidermal repair. Water resistant and ophthalmologically tested.

Sun protective body lotion SPF 30+
body milk providing elasticity and moisture to the skin. With antioxidant action to prevent photoaging. Water resistant and suitable for all skin types.