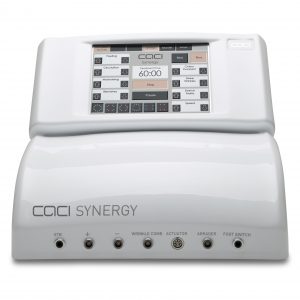 Synergy By CACI International
CACI INTERNATIONAL,  is a  British brand that is synonymous with microcurrent therapy technology. The word itself  'CACI' stands for:  Computer Aided Cosmetology Instrument , Computerized Cosmetology Instrument
The original non-surgical face and body lifting procedure developed by Dr. Thomas Wing from USA, developed originally to treat patients after paralysis and stroke.  During this treatment it was noted that the affected side of the face,  actually looked more youthful and toned than the unaffected side.
CACI International, with its release in 1992, revolutionized the beauty market by presenting a unique technology for non-surgical face and body correction using microcurrents.
Constant investment in development  and research allows CACI International to continue to be at the forefront of modern technological discoveries and implement these discovers into their devices. CACI equipment stands for British quality, high standards, exceptional results, worldwide recognition and leadership in the production of microcurrent therapy devices.
Why Choose Synergy By CACI International
CACI gives you get the comfort and peace of mind that you have purchased a brand product that guarantees , performance, profitability and quality.
As the UK leader in non-invasive equipment for aesthetic medicine and cosmetology, CACI is the # 1 choice for over 10,000 hotels, spas and wellness centers in over 97 countries.

CACI Internationals advanced non-surgical face and body care systems deliver:
Visible results

Long-lasting effects 

Have a strong reputation as an excellent tool for increasing the profitability of the salon business.
Each Synergy by CACI  International system is a must have for every beauty industry enterprise that wants to have a constant and growing income. When you buy a CACI system, you get much more than just a machine. You become part of the winning team and share the global success of the CACI brand.
We work with you to aid in your business growth  by providing deep and comprehensive training and support. 
While CACI systems include several technologies, our core microcurrent technology is at the heart of all systems.
Welcome to the world of unique CACI microcurrents – the favorite of world stars, among which the most prominent admirers of the technique are Jennifer Lopez, Jennifer Aniston, Kim Kardashian.