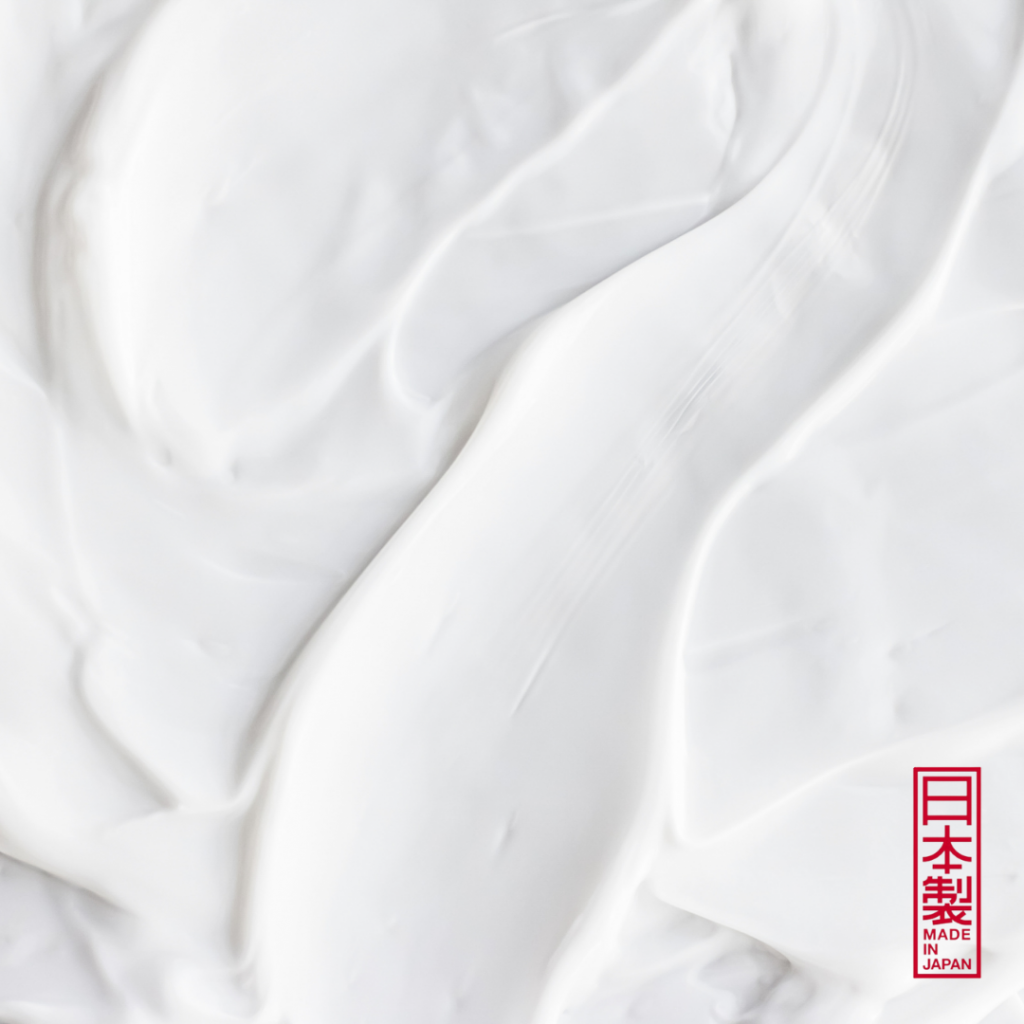 Creams
Enriched, ultra-comfortable and effective: luxurious creams from Forlle'd. Highly sophisticated low molecular weight ingredients and essential plant extracts are combined to effectively protect skin from premature ageing.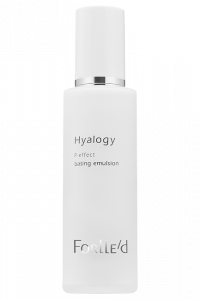 Hyalogy P-effect Basing Emulsion
Light Finishing Cream
Maintains the optimum skin nourishing balance and serves as a perfect base for makeup
This perfectly balanced base cream maintains the optimum moisture and nourishing skin balance. Deeply moisturizes, boosts regeneration, restores the skin protective ability, enhances skin immune. Builds up a breathable protective film, protecting the skin from dehydration even in uncomfortable and extreme weather conditions. Non-comedogenic, can be used as a finishing cream for daily beauty routine, as well as a base for make-up. Suitable for all skin types of all ages.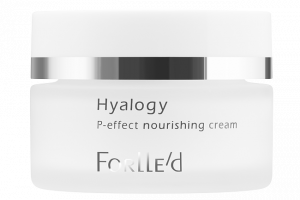 Hyalogy P-effect Nourishing Cream
Nourishing Cream
Gentle nourishing cream particularly suitable for dry, sensitive skin ideal for use during cold and windy weather.
Enriched nourishing cream instantly gives a feeling of comfort and calmness to dry and sensitive skin. Its complex of superbly selected ingredients ideally compatible with skin lipids provides multiple impact on the skin: restores hydrolipidic film, relieves the dryness and tightness, intensely nourishes and soothes. Reduces hypersensitivity, prevents premature ageing, enhances elasticity and resiliency.
Quickly relieves tightness and is ideal for use during cold and windy weather. Ideal for very dry and irritated skin, suitable for all phototypes of any age.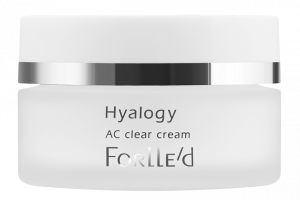 Hyalogy AC Clear Cream
Softening Moisturiser
Softening cream for oily and combination blemish-prone skin
Cream is specially elaborated for oily and combination skin, including very sensitive one. Soothes, moisturizes, maintains skin elasticity and firmness. Restores hydrolipid balance, normalizes sebum composition, naturally protects the skin for a long time, prevents pathogenic micro¬flora development.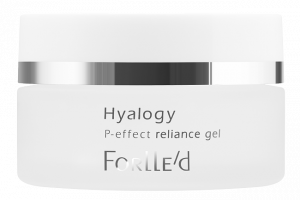 Hyalogy P-effect Reliance Gel
Intensive Moisturizing Gel
Packed with Vitamin C and low molecular ingredients for immediate in-depth hydration.
This wonderful gel is carefully designed for rapid recovery of the skin, ensuring immediate rehydration while increas¬ing the skin ability to retain moisture in the deep layers. Its rich formula helps restore skin cell energy and increases skin firmness and elasticity by inducing a clear lifting effect. This gel can be used for the final stage in daily skin care or as an instant rejuvenating mask to add radiance to the skin. Not comedogenic, suitable for all skin types of any ages.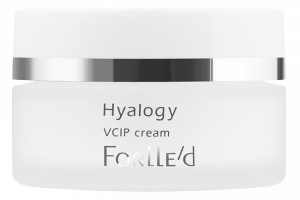 Hyalogy VCIP Cream
Brightening Cream with Vitamin C
Brightening antioxidant cream with Vitamin C, nourishing, rejuvenating and calming effects.
Ultralight cream provides antioxidant effect, strengthens blood vessels, evens out the complexion, making the skin look healthy and well-conditioned. Super stable fat-soluble form of vitamin C stimulates natural activity of the skin cells and the collagen synthesis, reduces the negative impact of UV radiation on cells, neutralizes active oxygen forms, prevents lipids oxidation and melanin formation. This lightweight cream is suitable for daily care for all skin types at any age, especially recommended for dull, tired skin with signs of photoageing.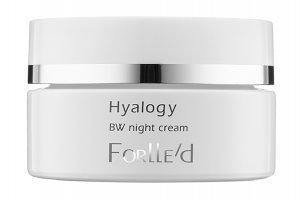 Hyalogy BW Night Cream
Brightening Night Cream
Reduces skin pigmentation, lightens spots and evens the skin tone.
This night cream gives the skin even, radiant tone, fights hyperpigmentation, lightens pigment spots, improves skin structure.
Prevents new pigment spot appearing, delivers antioxidant protection and anti-inflammatory effect. The cream has а light texture, which makes it pleasant for use, especially in hot season. Suitable for any ages. Should be used after consultation with your cosmetologist.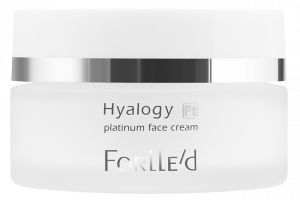 Hyalogy Platinum Face Cream
Antioxidant Face Cream
Particularly recommended for skin exposed to unfavourable environmental impacts and UV.
This face cream with low molecular weight ionized platinum helps control the basic mechanisms of skin photoageing, providing a powerful antioxidant effect and effec-tively protecting it from harmful effects of free radicals. Regular use improves the appearance and structure of the skin and makes the face look young, luxurious and well-conditioned. Recommended for the skin with photoaging signs, pigmented, dry, sagging skin and the skin exposed to stress, the impact of adverse environmental factors of large cities, excessive exposure to UV rays, smoking and unhealthy diet.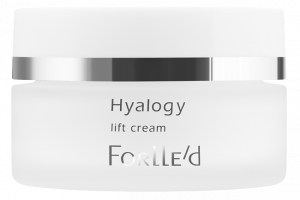 Hyalogy Lift Cream
Face-Lifting Cream
Reduces wrinkles and fine lines, loss of skin turgor, elasticity and skin dehydration.
This cream delivers modelling and instant lifting effect. Enriched with peptides and plant extracts, this cream prevents three major external ageing signs: wrinkles and fine lines, loss of skin turgor and elasticity and skin dehydration. This product is elaborated for daily care for atonic skin susceptible to dryness with fine lines and signs of gravitational ptosis.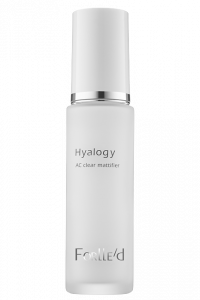 Hyalogy AC Clear Mattifier
Mattifying Emulsion for Oily and Combination Skin
Light emulsion and makeup base that hydrates and balances.
Light fluid-like AC Clear emulsion is developed to provide long-lasting matte effect to skin with excessive sebum
secretion and blemish-prone skin. It is a perfect base for make-up and keeps make-up fresh and beautiful for all day long, preserving the optimal skin moisture, normalizes skin microflora and its pH level.