Serums

Rose Hip Serum
Rose hip has long been renowned for its normalizing effect on sensitive, inflamed skin.  Due to its combination of plant-derived mucilage the serum delivers a result nearly unbeatable.

Phytoestrogen serum
Recommended for mature skin for deep hydration and antiageing benefits.

Anti-ageing & Hyaluron serum
By locking hydration into the skin, hyaluron forms a film on the surface of the skin to prevent dehydration and maintain elasticity.  The serum contains two different molecular sized particles  of hyaluronate the larger to hydrate the skins surface and a small weight to hydrate deeper layers.

Grape Stem Cell Serum
A light weight serum that penetrates the deeper layers of the skin where the stem cells can deliver their skin renewing and cell protecting effects.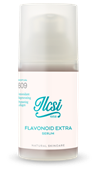 Flavoidnoid Extra Serum
Plants rich in flavonoids for antioxidant protection but to also increase the permability of the capillaries to improve betters circulation by supply essential nurtients, vitamins and oxygen to the cells.  This serum also stimulates collagen and elastin production.
SulphuricSerum
Idea serum for acneic prone and sensitive skins with its medicinal properties of sulphur and thermal water enriched water.

Lightening serum
Active ingredients of horseradish, bearberry, parsley, lemon, stonecrop and castor this serum has a skin lightening effect

Probiotic Serum
The probiotic ingredient improves the quality of the skin renewal process and it is a key component of the barrier function of healthy skin.

>