NATURAL SKINCARE
ILCSI – Why did we choose Ilcsi to lead our organic offering.  The answer is quite simple Ilcsi is a pure 100% organic brand from Hungary, carrying international certification bodies such as 9BDIH, ECOCERT, COSMEBIO, ICEA, Soil Association) all of this been unpinned by the Oko Garancia certification of Ilcsi own 20acre organic plantation, those plants that are not harvested from there are wild harvested by hand.  This truly remarkable range is hand-picked, hand processed and made to order to provide you the clinic and your customers the freshes most potent ingredients available in natural.  It has more than 60 years of experience and proven results in providing skincare products.  Iona Molnar was the founder of this cult brand and was an enthusiastic collector of herbs and flowers mastering how to use these plants and flowers in her skincare by a verbal transference of knowledge from generations of herbalist women and healers, many of the products than she created are still be used today and the knowledge she passed down has become the backbone of creating new formulas.  Aunt Ilcsi, perhaps the last truly holistic master cosmetician of our age.  Sadly, she is longer with us, but her legacy lives on through her family owned and run company.  The mission of this company is to be honest about ingredients, keeping up with the current trends, providing only quality products with high concentrated ingredients, custom-fit skincare routines, works in harmony with modern machine modalities and last be by no means the least, responsible for the world we live in and for those that will come next.
Cleansing & toning
Cleansers In additional to other botanical ingredients, Ilcsi cleansing milks are vitamin rich plant oils to melt away dirt, impurities and make-up
Rose petal cleanser – cleansing and refreshing for dehydrated, and skins lacking firmness

Grape stem cell cleanser for mature skin with dehydraton.

Sour cherry & blackthorn cleanser for younger dehydarated skins
Apple & Lemon cleanser for acneic, seborrheic skin prone to inflammation
Cleansing Conc
Use them every day as a facial wash and or a shower gel for the entire body.  They soften and dissolve keratinized epidermal cells

Mineral cleansing concentrate- this cult following product is a must in everyone shower.  A fabulous cleanser seborrheic, acneic skin.  Also recommended as a shaving product For men suffering from folliculitis, and for any clients with generally irritated skins

Nettle cleansing concentrate- this gentle cleasing concentrate is recommended for clients with dry, itchy skins on face and face.  The precious active ingredients of the Nettle clensing concentrate regenerates, refreshes dry, dehydrated skins

Refreshing cleaning concentrate a facial and body wash for dry skin to help improve the permeability of the skin for other active products.
Toner

Rose Hip Toner for sensitive, seborrheic, acneic skins, renormalises the sebeccous function

Rose Petal Toner – This firming toning is rich in vitamins and bioflavonoids for dehydrated and skins lacking in firmness.

Sulphuric Toner – Sulphur is widely used in traditional and modern medicine for the treatment of various skin conditions.  With the added benefit of adding limewater to increase the anti-inflammatory properties of the sulphuric itself.  Recommended for oily, acneic skin prone to inflammation.

Grape Stem cell toner – this contains grape stem cells, its specials formula refreshes and regenerates mature skin with dehydration.

Sour Cherry & Blacktorn toner – Recommened for pale skin, skin lacking firmness and enlarged pores.  Blackthorn is rich in Iron so promotes blood flow to the capillaries and stimulate the fibroblasts.

Apple and Lemon toner very beneficial effects on acneic, oily, seborrheic skins that has enlarged pores.
Exfoliation
AHA Peelings  - This biological peel delivers a result that can be seen and felt immediately, irrespective of skin type or skin problem. It promotes skin renewal, improves skins hydration. Recommended use with paprika Herbal Treatment – Often referred to as mask before event.

Skin renewing peel recommended for all skin types, fast and easy to use.
Face & Body Exfoliators - Horsetail and Spinach exfoliating mask- a gommage style mask rich in flaviodnoids and antioxidants to improve circulation and aid in the supply of nurtients, vitamins and oxygen to the cells.

Grape Stem Cell peeling – Ground grape seeds gently remove dead epidermal cells, grape stem cell nourish mature and dehydrated skins.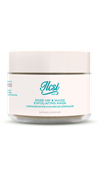 Rose hip and maize – gommage style exfoliator suitable for refining scaly skin, seborrheic skins.  The soothing, nourishing and refining effects make the skin more permeable for other actives

Rolling face and body mask – the abrasive effect of this mask makes even the roughest skin soft and silky.  Contain hot paprika to increase blood flow thus allowing more oxygenation to the skin and deeper hydration.
Sensitive Extra Treatment & Peeling – Recommended for all skin types with sensitivity, has a soothing hydrating and antioxidant effect on the skin.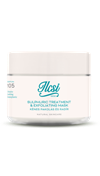 Sulphuric Treatment & Exfoliating mask – Thanks to the beneficial effects of sulphur we can gently prepare anceic, inflamed and problematic skins for further treatments.
Face & body Treatments
Massage Creams

Linseed massage Cream – this massage cream is valuable in carrying active ingredients to the deeper layers of the skin for better nutritional supply and hydration.

The key active of Linseed Oil, rich in phytoestrogens, carotenoids and vitamin F this massage cream is regenerating thanks to the  rich phytoestrogens, carotenoids and vitamin F found in the linseed by also strengthening the biophysical functions of the skin for better skin tone , while the paprika detoxifies and stimulates the cellular regeneration.

OPCs, (Oligomeric proanthocyanidins) are compounds found in grape seed rebuild the collagen fibres, but they are also nourishing firming and powerful antioxidants.  This oil restores the lipid barrier and replenishes the hydration levels in the skin. A must for mature skin and can be used alone or mixed with other massage mediums.
Cosmetic Masks & Treatments

Paprika Herbal Treatment – the active ingredients of the herbs have a stimulating effect on the skin, making it visibly firmer.  This mask increases blood flow, which warms up the skin, and more intensive blood and lymph circulation to detoxify the skin.  Regular use rebuilds tired, lack lustre skin.

Seven Herb treatment is an astringent mask perfect for clients with congested, inflamed skins that are sensitive particularly after having had extractions performed.  The yarrow content restores the lipid barrier as well as having a hydrating effect on the skin.

Ichtyolic Herbal treatment – mask that can be used post extraction or as a maintainance mask for keeping the skin in good condition.  Thismask is suitable for acneic, congested, and sensitive skin it works as an astringent, soothing and exfoliating mask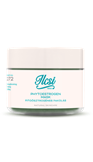 Phytoestrogen Mask – Recommended for clients with mature skin that require redensifying, hydration and toning.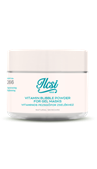 Vitamin Bubble Powder for Gel Masks- recommended for revitalising tired, dull skins.  This vitamin C powder is mixed 1 part to 3 parts of your normal gel mask with a small amount of toner.  The Paprika mask can then be applied over the top for a deeper treatment.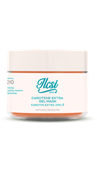 Carotene extra treatment – recommended for lipid dry and dehydrated skins.  The high carotenoid and flavonoid content promotes skin building and regeneration.

Flavonoid Extra Mask – Recommended for stressed, weary , dehydrated skin.  The high flavonoid content improves elasticity, blood flow and oxygen supply.  Thanks to the algae, the mask is excellent for an ageing skin.
Gel Masks & Treatments

Nettle & Algae Treatment -Due to its regenerative effect it can be incorporated into a massage medium.  Its hyperaemia effect strengthens and regenerates the skin immunity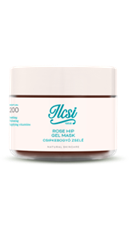 Rose Rip Gel Mask -this vitamin enriched , and hydrating mask will soothe and replenish the skin.  Suitable for even the most sensitive skins.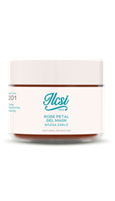 Rose Petal Mask – The sugars, acids and bioflavonoids of roses have a regenerating, toning and hydrating effect on the skin.  The ingredients of the gel mask make skin with deep dehydration healthier, more beautiful and protected

Pumpkin & Orange Gel Mask is a nourishing, hydrating effect on the skin.  The enzymatic action is not suitable for very sensitive skins.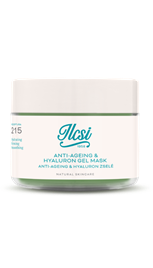 Anti-ageing Hyaluron gel mask, this mask contain concentrated combination of hyaluronate and botanical ingredients to deliver a result that can be felt and seen immediately – for smoother and firmer skin.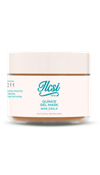 Quince Gel mask – Enzymatic mask full of fruit acids, pectin's, vitamins, fruit sugars, flavonoids and honey to nourish, tone and improve the elasticity of the skin .  this is a wonderful eye mask.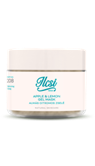 Apple & Lemon Gel Mask -  Firming and toning mask for oily, congested skins.  Apples are rich in pectins, vitamins, mineral salts and fruit sugars and Ilcsi uses every part of the lemon to enrich the effect of the apples.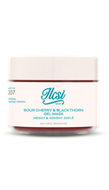 Sour Cherry & Blackthorn Gel Mask – Cherries slow due the ageing process due to there antioxidant capacity, fruit sugars and acids nourish, tone and hydrate the skin.  This firming, hydrating mask is suitable for all skin types but especially for skin lacking firness and dehydration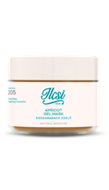 Apricot Gel Mask – Apricots contain various types of bioflavonoids, carotenoids and bursting full of vitamins. Its wonderful aromatic compunds, fruit sugars, fruit acids and pectin's are sources for youth and vitality of the skin.  Suitable for almost all skin types except and acneic skins.

Harmonizing Spirulina Mask – this mask strengthens the physiological dunctions of the skin enabling us to prevent appearance of acne lesions.  Spirulina algae are marine microalgae rich in proteins, amino acids and minerals they nourish the skin and replenish it will vitamins.  It is sebo regulating, refines the skin and delivers a more even tone and radiance to the skin.

Pro-Ageing Vitalizing mask – Recommended for mature skin with deep dehydration, has a firming effect.  Noticeably refines, smoothes the skin tone and supports elasticity
Serums

Rose Hip Serum – Rose hip has long been renowned for its normalizing effect on sensitive, inflamed skin.  Due to its combination of plant-derived mucilage the serum delivers a result nearly unbeatable.

Phytoestrogen serum – Recommended for mature skin for deep hydration and antiageing benefits.

Anti-ageing & Hyaluron serum – By locking hydration into the skin, hyaluron forms a film on the surface of the skin to prevent dehydration and maintain elasticity.  The serum contains two different molecular sized particles  of hyaluronate the larger to hydrate the skins surface and a small weight to hydrate deeper layers.

Grape Stem Cell Serum – A light weight serum that penetrates the deeper layers of the skin where the stem cells can deliver their skin renewing and cell protecting effects.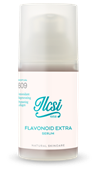 Flavoidnoid Extra Serum – Plants rich in flavonoids for antioxidant protection but to also increase the permability of the capillaries to improve betters circulation by supply essential nurtients, vitamins and oxygen to the cells.  This serum also stimulates collagen and elastin production.
SulphuricSerum – Idea serum for acneic prone and sensitive skins with its medicinal properties of sulphur and thermal water enriched water.

Lightening serum – Active ingredients of horseradish, bearberry, parsley, lemon, stonecrop and castor this serum has a skin lightening effect

Probiotic Serum – The probiotic ingredient improves the quality of the skin renewal process and it is a key component of the barrier function of healthy skin.
Oils

Yarrow Oil – This product contains the soothing and exfoliating active ingredients of yarrow in a plant germ oil solution.  Can be applied with your daily or nightly moisturiser for nourishing, regenerating and antioxidant proction for a sensitive skin.

Calendula Oil – This oil is made from the petals of the calendula flower and contains beta carotene, vitamins E,F and selenium which contribute to the health of the skin.  For all skin types to add into your moisturiser for added vitamin and nourishment.

Alpha Beta Gamma Delta Oil – this formula combines evening primrose oil with grape seed oil.  Due to the high content of essential fatty acids it strengthens the connective tissues and promotes collagen & elastin synthesis.
Face Care
Whip Moisturisers – Their formula is highly suitable for the delivery of acidic active ingredients derived from fruits and other plants. They preserve the acidic environment in which plants can be found in nature, therby preserving their high concentrations of active ingredients.

Rose Hip Whip – Roses contain a special combination of carotenoids, flavonoids, vitamins, fruit sugars, acids, pectin and trace elements.  Perfect for those clients with sensitive skin and those with hyperactivity of the sebaceous glands.

Apricot whip – Apricot is rich is vitamins and a wide range of bioflavonoids.  The added benefit of fruit sugars, fruit acids, pectins are good source to restore the youthfulness of the skin

Sensitive Extra Gel Cream – Active ingredients of yarrow and plantain this gel cream is perfect for alleviating skin irritation from allergies and replenishing the moisture levels.

Apple & Lemon Whip – this lightweight, hydrating whip is perfect for oily acnenic skins, due to the versatility of the active ingredients of apple and lemon.

Sour Cherry & Blackthorn whip – A powerful antioxidant moisturiser from the bioflavonoids , rich in minerals, trace elements and iron to brighten the dullness of skins.  The skin is left well hydrated thanks to the fruit acids and sugars.
Moisturisers – Ilcsi's moisturisers are made from fresh fruits and herbs, are slightly more oily than the whip formulations so their pH is close to neutral. The perfect choice for nourishing and regenerating the skin.

Nasberry AHA Moisturiser – Made from fruits that are rich in vitamin, their pectins have a regenenerating effect on mature skins and contain sorbit whivch is hydrophilic.  This moisturiser due to the AHA is skin renewing and importantly fruit are nature's antioxidant protection

Phytoestrogen moisturiser is rich in phytoestrogens from yucca, red clover, hop and linseed oil.  The formula is enriched with grade seed oil containing high levels of linoleic acids.  For mature skins with dehydration.

Sulphur cram – this cream is made with sulphuric water and peppermint oil to hydrate acneic and congested skins prone to inflammation.

Grape Stem Cell moisturiser – Grape OPCs can renew collagen and elastin fibres and are powerful free radical scavengers.  The regular use with slow down the appearance of wrinkles on a mature skin as well as provide much needed hydration.

Anti-Ageing & Hyaluron Moisturiser – Ilcsi's  Anti-Ageing & Hyaluron products are formulated with high concentration of natural hyaluronate in two different molecular weights, one working on the surface layers of the skin and the smaller molecule working on the deeper layers of the skin to provide long term hydration.  So this mosituriser plumps and firms in one step.

Lightening cream – the botanical ingredients of this cream offers a solution to pigmentation disorders.
Rich Moisturisers – Ilcsi's rich moisturisers contain outstandingly high concentration of vegetable oils therefore they are recommended exclusively for lipid deficient skins.

Rich Grape Stem Cell moisturiser – This mosituriser boosts the vitality of the epidermal cells and stimulate cell renewal.  The formula contains a large amount of vitamins and enriched with oils for lipid deficient skins.

Rich Phytoestrogen Moisturiser – intensive nourishing effect is also rich in phytoestrogens from yucca, red clover, hop and linseed oil.  The formula is enriched with grade seed oil containing high levels of linoleic acids.  Recommended for mature lipid dry skins

Rich Carotene Extra Moisturiser – This intensive nourishing cream is rich in precious plant oils and effectivately alleviates skin dryness.  Active ingredients of rowan, carrot and melon the moisturiser is firming, regenerating and hydrating.
Eye creams – the eye area requires special care because compared to the rest of the face, here the skin is thinner and it is under a lot more strain. The fine flutter of nerves located around the eyes do not let this relatively unprotected area rest, therefor the first wrinkle appear here.

Anti-ageing & Hyaluron Eye Contour Cream – this  eye contour cram is unique thank to the rejuvenating and firming properties of plants that have a magical power, and to natural hyaluronate.  The special formula instantly hydrates and smoothes the eye contour area.

Flavonoid Extra Eye Contour Cream – Recommended for the care of tired, pale skin with dehydrated surface and deep layer dehydration, and for the first signs of oil deficiently in the eye contour area.  The cream is rich in flavonoids, its strong antioxidant and firming effects can be felt almost immediately.
Body
Hand & Foot Ilcsi's hand and foot creams can offer a solution ot he problem of dry cracked hands and heels.

AHA Yogurt peeling treatment – To be used for the treatment of hyperkeratinisation of the skin on the body, mainly elbows, soles and heels legs and for lichen pilaris.  This must not be used on the face.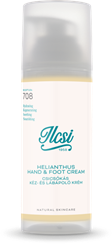 Helianthus Hand & Foot Cream Thanks to helianthus (sunroot) and calendula, the cram hydrates, nourishes, soothes and intensively regenerates skin on the hands and feet that is painfully dry and prone to cracking, leaving it soft and silky.  Recommended for disbetetic's which skin requires special attention and care.
Body Lotions
Ilcsi's body lotions can be used for boey treatments and they should also be part of the dailu skin cate regimen at home:  use them after showering.  They absorb quikly and easily, and besides nourishes oils they also contain soothing and regneratinf votanical ingredients to protect skin against dryness, indulges the senses with pleasant fragrances, and leave the skin velety to the touch.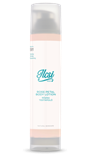 Rose Petal Body Lotion – The body lotion is made from rose petals and rose oil (attar roses) to nourish, regenerate and deply hydrate loose, dehydrated skin that is dry to the touch.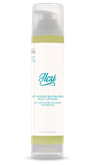 Anti-ageing & Hyaluron Body Lotion - The body lotion contains two types of natural hyluronate to nourish the outer and deeper layers of the skin.  Larger molecules from a velvety film on the surface of the skin to maintain moisture levels and protect the lipid barrier and the smaller molecules work deeper in the skin allowing more moisture retention leaving the skin silky to the touch

Grape stem Cell Body lotion - this body lotion contain garpe stem cells, its formula is unique even in a market of natural cosmetics products.  Due to its light texture it absorbs quickly and renews mature skin with dehydration on the skin and in the deeper layers.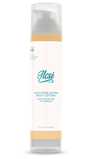 Carotene Extra body lotion- Due to its antioxidant, hydrating, regeneratin, nourishing and revitalising effects it is recommended for all skin types.  Thanks to rowan, carrot and melon, it has amazingly fruity scent.  Regular use makes skin smooth and hydrated.
Specialities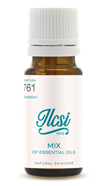 Mix of Essential oils – A blend of the most effective disinfectant essential oils. Add a few drops into a bath for a relaxing, invigorating effect, or use in a vapozon to cleanse the air in the entire room and to keep gems out.

Ichtyolic concealer – formulated to sooth and concealer acneic skin prone to inflammation,  Has beneficial effects especially on the skin of young clients as it covers spots, soothes inflammation, doesn't smear and can be rinsed off with water.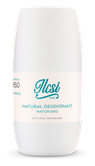 Natural Deodorant- Infused withtangerine, lemon balm oil and aloe to neutralise body odour.  Kils bacteria and facilities the discharge of toxins from the body without blocking perspiration.  Gender neutral fragrance.