SkinMTX Masks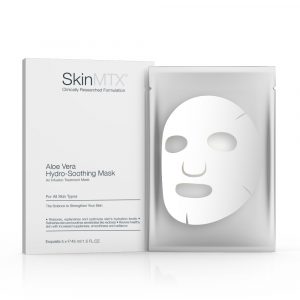 Aloe Vera Hydro-Soothing Mask
Harnessing the hydrating benefits of Aloe Vera, this Aloe Vera Hydro-Soothing Infusion Treatment Mask transforms the look of dry and sensitized skin. It cools your skin, continuously replenishing moisture levels to improve the appearance of dry lines, flakiness and tightness. Working in tandem with Grape Seed Extract, a botanical active concentrated with free radical-quenching properties, this formula strengthens your skin's natural moisture barrier while boosting natural defenses against external aggressors. This formula is further enriched with soothing actives that alleviate signs of irritation. Drenched with hydration, your healthy skin appears smooth, supple and radiant.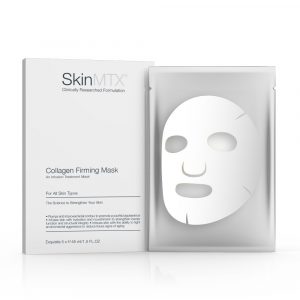 Collagen Firming Mask
This revitalizing Collagen Firming Infusion Treatment Mask adds vitality and helps your skin to restore elasticity. This formula maximizes your skin's power of rejuvenation; tapping into the regenerating properties of efficacious actives. Plant-based sugar, Betaine, drenches your skin with moisture as nutrient-rich Wheat Germ Oil helps strengthen structural integrity and barrier function. Plump with hydration and imbued with the ability to fight against environmental aggressors, your skin is adequately protected against free radicals and the invisible drivers of aging – fatigue, stress and pollution. Day after day, your skin appears visibly uplifted, firm, resilient and restored.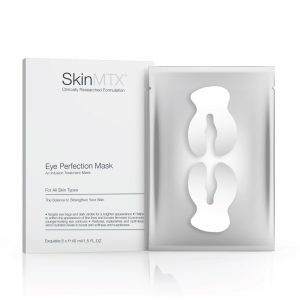 Eye Perfection Mask
Designed specifically for the delicate needs of the eye contours, the Eye Perfection Infusion Treatment Mask hydrates your skin. Conforming comfortably to your skin, this mask seals in precious essence that counteracts dryness while targeting visible signs of aging around the eyes. Fortified with Wheat Germ Oil, an active rich in vitamin E and essential fatty acids, the mask softens the appearance of fine lines, and helps to correct dark circles and eyebags. Over time, the eye contours reveal an appearance of youth that is firm, lifted and bright.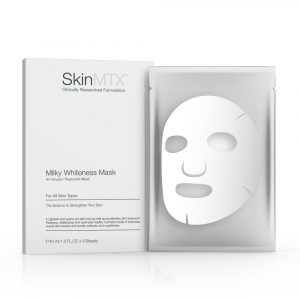 Milk Whiteness Mask
The ultimate solution for dull and lackluster skin, the Milky Whiteness Infusion Treatment Mask fits perfectly to facial contours to renew skin's youthful translucence. At the core of the formula stands excellent lightening active, Lactic Acid which gently accelerates skin's natural exfoliation process. This formula removes dead surface build-up and promotes fresh skin renewal; lifting away dullness and working to balance the color and tone of the complexion. Intensive hydrating actives enrich the formula while boosting overall softness and suppleness. Your skin is refined and revitalized and looks brilliantly brightened as if illuminated from within.
Purifying Mask
This gentle, cooling sheet Purifying Infusion Treatment Mask harnesses the purifying power of Oleanolic Acid to revive a clear and refined appearance. This formula readily targets excess sebum and dead surface build-up to help prevent blemishes and breakouts. A synergistic combination of calming actives, Aloe Vera and Menthol, aids in restoring a healthy, natural equilibrium and combat blemish-related symptoms like redness, swelling and irritation. Your skin revitalizes at an accelerated rate with controlled shine, increased hydration and renewed clarity.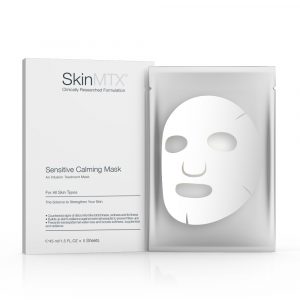 Sensitive Calming Mask
The ideal solution for distressed skin; the Sensitive Calming Infusion Treatment Mask is an ultra-gentle formulation that helps calm, restore and defend against reactive flare-ups. Enriched with soothing botanical extracts from Witch Hazel, Chamomile and Grape Seed, the formula fortifies the skin to counteract signs of discomfort such as blotchiness, redness and itchiness. With moisture-binding active, this mask reinforces skin's natural protective barrier and improves its water retention to boost hydration levels. Rich with free radical-quenching activity, the formula builds up skin's resilience to help defend against future assaults. Your rejuvenated skin revels in renewed comfort with increased smoothness, suppleness and radiance. Your rejuvenated skin revels in renewed comfort with increased smoothness, suppleness and radiance.

>