Synergy Technology
Whilst CACI systems incorporate multiple technologies, at the heart of all the systems is our core Microcurrent technology. What sets our Microcurrent technology apart from other Microcurrent machines is our use of ultra-low frequencies in combination with skin resistance technology and a patented digital waveform.
This unique digital waveform optimises results and comfort by gradually increasing in intensity to overcome skin resistance. It then rises to a peak in order to deliver the full power of the Microcurrent energy deep into the muscle. This means that CACI systems not only achieve better results but also longer lasting results.
With the introduction of the Synergy system we have taken Microcurrent technology to the next level. Synergy's new S.P.E.D® Dual Action Technology represents a significant breakthrough in Microcurrent therapy. S.P.E.D® enables skincare specialists for the first time to deliver the power of LED light stimulation at the same time as using Microcurrent.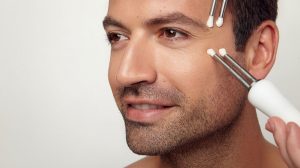 This dual action technology has been clinically proven to deliver faster, more effective and longer lasting results than standard Microcurrent. The introduction of S.P.E.D® means that the best Microcurrent treatment systems on the market are now even better.