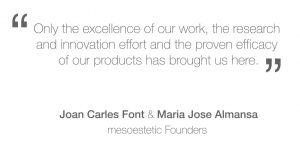 About Mesoestetic:
Mesoestetic has an international reputation in the field of cosmetic medicine and is recognised as one of the world's leading pharmaceutical laboratories for its depigmentation treatments (Cosmelan/Dermamelan). Mesoestetic also manufactures homecare products containing maximum concentrations of active ingredients and advanced anti-ageing treatments. All mesoestetic products and treatments have been rigorously tested and endorsed by scientific studies and conform to the highest safety standards. Physicians, professional aestheticians, clients and end users in more than 60 countries trust mesoestetic due to its highly effective products and 30+ years of experience in the cosmetic industry.
Mesoestetic are launching in 2021 its new branding which clearly refine their image for the future, being faithful to their core values of excellence, safety, innovation, passion, commitment.
Taking its inspiration from the periodic table of elements, this icon will be known as the brands element.  The number represents the year the company was founded.